It is useless to publish on Instagram without stopping if, in practice, you do not achieve the objectives set. Whether in the search for conversions, engagement, or to create a community, the Instagram feed can be your great ally. Do you want to stand out from the rest? We give you some ideas to dazzle with your feed in an increasingly professional environment. In addition, in this article, you will find patterns, examples, and tools that will make your job much easier. Go for it!
What is the Instagram feed?
The Instagram feed is your virtual showcase and the first thing someone who visits your profile sees. Also called an Instagram wall, the feed is the page where all your data appears, such as your profile image, your biography, your featured stories, and all the images published. It is displayed in the form of a grid, and at a single glance, a user can see all the information that you have published in your account and decide if they are interested in following it or not. And this will happen in a few seconds and the middle of an ecosystem full of images and with hundreds of accounts like yours. For this reason, it is very interesting to take maximum care of your appearance.
Although the grid is the most common way to display the Instagram feed, you can also view each post individually by clicking on an image and scrolling. There will probably be few times that users go through your account feed. Once they are followers, it will be the individual publications that achieve (or not) their interaction.
The balance between posts and feed
Although there is no doubt that the feed on Instagram is an excellent cover letter, you have to balance the periodic publications that create it. And is that although it serves (and a lot) to attract new followers, the feed is not the most relevant for users who already follow you. They, in most cases, will see you on their timeline without even appreciating how beautiful or eye-catching your feed is. Only in cases where they want to look for an old post will they discover the pattern or design of your Instagram wall in its entirety. There it will also be important that it is clear and attractive to encourage greater engagement.
Instagram feed types
There are many types of Instagram feeds, and before deciding which one you want to follow, you have to think about the style of your personal or company brand and how you want to transmit it when a user visits your account. It can be a daring, classic, minimalist, groundbreaking, original, messy feed, with a lot of colors, in black and white, with only text, a combination of photographs, illustrations, mosaics, or a mixture of several… the options to organize the Instagram feed are almost infinite.
However, you do not have to follow one of these types if you do not need it or are not interested in sticking to a specific design and prefer to improvise. Using the patterns for the feed is not an essential requirement to increase followers, but one more tool to differentiate yourself from the competition and impact the user.
Let's look at the most common types of Instagram feed below; you will surely find one that fits your needs.
Feed by colors
The color feed pattern is when the photographs are chosen based on the colors that predominate in them, preferably corporate ones. Whether they are product images, people, landscapes, details, or designs with text, in this type of feed, the objective is that the tones of all the images are harmonious with each other. There are several solutions for this. On the one hand, you can always choose the same Instagram filter or apply the same type of retouching to the photos; you can also decide to use a color that stands out from the others, use complementary color combinations, and even publish only images in black and white. The color options are huge and allow you great flexibility when it comes to organizing your Instagram feed.
Geometric feed
One of the most used types of Instagram feed is the feed-in you play with the geometric distribution of the photos. Following these patterns makes your feed look orderly almost from the first line you start applying it. We highlight three alternatives:
Horizontal feed layout: Post the three photos in each row with some relationship to each other. For example, it is very common for photographers to publish three photos from the same session with a different focus or, in the case of stores, the same product with detailed images. Another simple idea is to highlight a color or detail in each row and make the rows different from each other.
Vertical feed design: In this case, it is taken into account the style of the columns from top to bottom, and the photos of each column have to be linked in some way, as we have commented on the horizontal design.
Diagonal feed design: The diagonal feed follows the same principles as the previous ones but is more complicated since it requires good planning.
Framed feed: Posting images with square, round or rectangular frames in white or other colors can also give the Instagram feed an attractive appearance.

@alejandraremon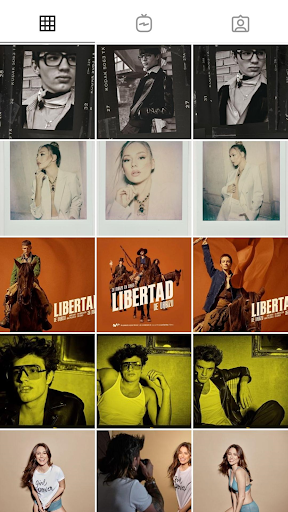 @valero_rioja
Dashboard Instagram Feed
This type of board design for the feed is characterized by simulating a chessboard, as its name suggests. It is about choosing two predominant characteristics in the images and combining them. An example could be posting an image, a text, an image, a text, and so on by creating the grid. It is a very practical way to organize content.
@cerebralmist
Mosaic and puzzle feed
Also called feed puzzle, these are some of the most used by brands that want to stand out. If you opt for the mosaic feed, you should know that it is done by dividing an image into at least six photographs (it can be nine or more). There are free apps that will do this work for you, but you have to bear in mind that the idea is that each image speaks for itself and is understood independently of the others. This way, you make sure that it looks good in your feed and makes sense for your followers.
The puzzle feed is one of the most complicated types of Instagram feed to run and one of the most fun. Although it is very fashionable, it currently requires a good order and basic knowledge of photo editing tools. To create the puzzle, you will have to create a template in an image editor with several rows of three photos simulating the Instagram grid. Then, on the squares (images), you can create the design you want, insert images, add text, videos, etc. Each image will have its entity, it will be published independently, but in the feed, they will create a unitary set that will surprise your future audience. If this is your chosen pattern, keep in mind that this type of Instagram feed in the form of a puzzle is very attractive, but it can limit you.

@orhganic
@juniperoats
Instagram feed for businesses
The Instagram feed for businesses is your showcase to the outside world. It is a part of Instagram marketing that any company can implement and a perfect way to publicize its product or service and the most direct way to transmit its essence, values and connect emotionally with who is behind the screen. Therefore, in the case of companies, it is advisable that the feed is 100% aligned with the brand, be coherent and harmonious.
An essential starting point before deciding the type of feed and the posts to be published is to identify the objectives: conversions, engagement, image, generate conversation … Later, it is time to carry out good planning in which, of course, the design has a great weight.
As is well known, Instagram is a social network with great prominence of the image, but it has to add value to your target audience. In the Instagram feed for companies, it is a mistake to focus only on aesthetics.
How to create a good Instagram feed?
Following the premise that aesthetics and content should go in the same direction, to create a good Instagram feed, we advise you to always be very clear about the account's objectives and create a content strategy on them. This can be implemented, tested, and modified based on the measurement of results, on the one hand, and the needs of your account at all times. The ideal is to propose in a list the type of content that you have or will have (photographs, videos, reels, quotes, infographics…), think of a design for each type respecting the style of your brand or corporate colors, and typography and decide a periodicity or frequency. The more flexible the options, the better; it is not a good idea to discard content that could work with your audience just because it does not "look good" in the feed.
Tools to design the Instagram feed
Although it is always advisable to have a marketing agency, a designer, or a professional community manager, you also have many tools at your fingertips to design your Instagram feed. We briefly detail some programs and apps for your mobile that can be of great help.
Photoshop and Illustrator: Knowing these professional programs is a basic of graphic design. They have all kinds of functionalities and will allow you to create templates for the Instagram feed, modify images, or design text content posts, among many other things.
Canva: you probably already know it since it is one of the most used image editing tools. It has numerous predefined templates; it allows you to upload your images, choose stock images and combine infinite fonts even with movement effects. It is available both in computer format and in a mobile app.
Planoly is one of the most popular tools to design the Instagram feed; it is ideal to see how it looks, plan posts and stories, and see the statistics.
Grids for Instagram: This is one of the many apps that exist to create mosaic feeds easily. Automatically divide the image you want to upload into the posts you want.
Preview: is an app that is used to plan the Instagram feed visually. It is used very intuitively and is perfect to see how it looks before publishing the posts.
Once you've seen the basic steps to improve your Instagram feed, what are you waiting for to get down to business? You need to know your audience, a good content strategy, and a large dose of creativity; go for it!
If you need help, do not hesitate to contact Kala Agency. We are here to help you. We will surely be able to boost your Instagram account to attract all that potential audience that is missing your magnificent content.